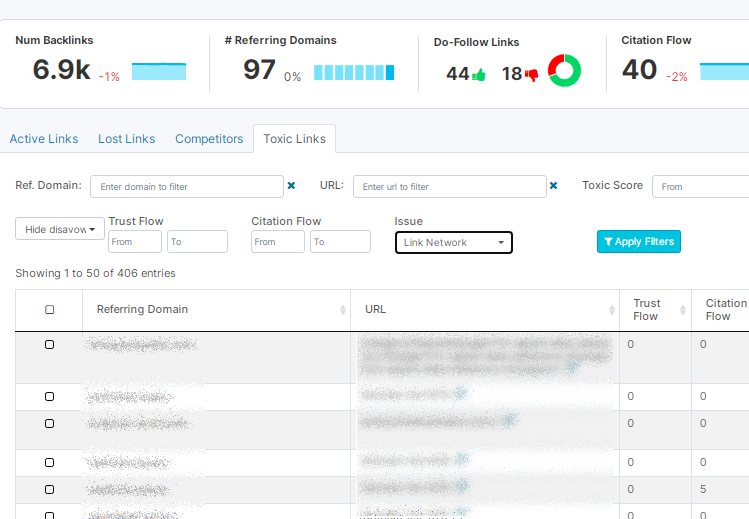 Recently we had a client inquire about whether they should be disavowing links on a routine basis, just sort of a "good hygiene" type thing. Resulting from that we took a look back into this aspect of the industry that we haven't paid much attention to for awhile. It seems like much of the advice out there involves inspecting all your links, or your links that have the lowest DA (Moz), or the lowest Trust or Citation scores (Majestic), or each tool's equivalent. This is not really that helpful as that's a lot of manual inspection that's required.
Here are some things we found:
1.) It looks like AHREFS doesn't really have a toxic link audit anymore (well, at least, we couldn't find it). This is puzzling given that the founder of the company really made that the "claim to fame" of the tool in the early years, it's what its reputation was founded on. But now it's nowhere to be found! Very odd.
2.) SEMRush does have a backlink audit feature, although it seems to surface very few "toxic links", and we couldn't find much info on how it's calculated.
3.) SheerSEO is the only tool we've found that seems to provide individual detail about toxic links and what goes into their score, so you can make your own determination. By the way, SheerSEO has a lot of other fantastic features, we use it every day and love it!
Our Process for Identifying Toxic Links
Here's our process we have settled on to identify so-called toxic links. It's fairly arbitrary but was established by looking closely at a large backlink profile of a client in detail. Note that if we thought the client had an actual penalty (i.e. an explicit "Manual Penalty" shown by Google Search Console, or an assumed "Algorithmic Penalty" based on how their site is performing organically), we would definitely do a more in-depth analysis and probably generate a more expansive list.
But in general the items below seemed like a good place to start, just for Hygiene purposes. For instance, if you have links from sites that Google itself does not index…..those seem like really bad places to have links from, intuitively. Similarly "Bad Environment" links are sites with web server errors etc, so they probably aren't helping you anyway.
A. Combine all of the following:

SEMRush's list of "Toxic Links"
SheerSEO's "Bad Environment" category
SheerSEO's "Site not Indexed" category
SheerSEO's "Spam TLD" category
SheerSEO's "All Issues" category, but only those with a Toxic score over 100
SheerSEO's "All Issues" category, but only those with the phrases "SEO" or "viagra" in them.
SheerSEO's "All Issues" category, but only items with 0 trust and 0 citations that have the word "article" in them.
B. We ignore the following:

SheerSEO's "Sitewide Link" category
We believe these actually do not automatically harm a site, we've seen plenty of examples of sitewide links that seem fine. It's pretty normal to be listed in a Blogroll or a list of Resources etc that might appear sitewide somewhere, we don't think this is a big deal.

SheerSEO's "Link Network" category
SheerSEO says these are links where you have multiple links coming from two or more websites that are sharing the same IP address. We were a little bit on the fence with this; the links didn't look bad, and the anchor text of the links were desirable. Some are probably scraper sites. But we didn't see anything that jumped out at us in this category in particular.
At any rate, we largely skipped worrying about this category, other than where the Toxic Score was over 100 (see above). We established that 100 threshold simply by inspecting URLs, it feels about right to us.
C. Eliminate duplicates, strip the domains out of the URLs, and submit them in Google Search Console's "disavow" tool.
We'll clearly be keeping a sharp eye on the client's Google Search Console as well as their organic rankings over the coming months.
OK, But Should You Disavow Links on a Regular Basis for "Hygiene" Purposes?
Well, we are pretty sure we heard John Mu once on a Webmaster call advise people not to worry about it. So that counts for a lot. We separately queried one of the top guys in the industry that we highly respect, who will remain nameless here, and he said he doesn't worry about Toxic links. We're on the fence about it, but the client that asked us really wants to do a little disavowing. The last time they did was five years ago, and guess what? We downloaded that list and examined it and about 1/3 of the domains that were disavowed then look fine to us, and have pretty high DA/Trust/Citation values! So we expect this to be a small win, we'll disavow the new list, include the 2/3 of the old list we agree with, and drop the 1/3 of the old list that the client's website is currently not benefiting from.
How do you think about Toxic links?
Ever? Not at all? Only if you have a penalty? Please comment as we're very interested in opinions on this!